Neurology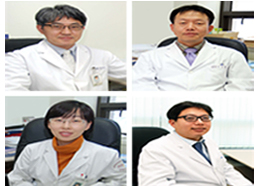 In the Dept. of Neurology, highly qualified specialists treat patients suffering from central nerve, peripheral nerve and muscle-related diseases.
KNUH is equipped with a neurologic intensive care unit, an intensive care unit for stroke, a video – brain wave monitoring ward, and MRI and CT units together with high-tech equipment for angiography, transcranial doppler and brain wave and intra-operative monitoring. With these facilities, the Dept. of Neurology   strives to achieve effective treatment.
A cerebrovascular disease clinic, peripheral nerve clinic, epilepsy clinic and Parkinson's disease and dyskinesia clinic are separately operated to provide more specialized and customized treatment services.
Target Diseases

Cerebrovascular Diseases : Cerebral infarction, cerebral hemorrhage, cerebrovascular disorders
Peripheral Nerve Diseases : Radiculopathy, neuropathic pain, restless leg syndrome, myasthenia gravis, myopathy
Epilepsy and Convulsive Diseases : Convulsion and seizure
Dyskinesia : Parkinson's disease, gait disturbance, essential tremor, dystonia
Neurodegenerative Disorders : Alzheimer's disease, other cognitive dysfunctional diseases
Infectious Diseases : Meningitis, encephalitis
Other : Headache, dizziness, facial nerve palsy