Pediatrics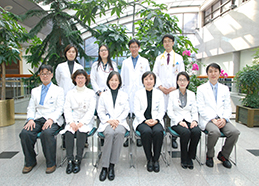 The Dept. of Pediatrics conducts research and provides treatment service targeting young patients from infants to adolescents (Males: 12 – 20 year of age, Females: 10 – 18 years of age). The expression "children are small adults" connotes the characteristic of pediatrics. It is important for pediatricians to accurately understand the characteristics of children in each stage of growth.
The Dept. of Pediatrics provides overall management for the growth and development of a child from infancy to adolescence, treats and studies all diseases occurring during each stage of growth, and thus administers systematic prevention and treatment of diseases.
Specialized pediatric clinics handle diseases of neonatal and premature babies, respiratory allergies, pediatric endocrine disorders and obesity and pediatric gastrointestinal diseases. In addition, with consultation for child care and vaccination, the Dept. of Pediatrics  provides high-quality medical services at all times.
Target Diseases

Neonatal and Premature Baby Clinic : Premature baby care, diagnosis and treatment of neonatal diseases
Allergy Clinic : Diagnosis and treatment of allergic diseases, allergy tests and consultation, immunotherapy
Growth Clinic : Bone age measuring, growth hormone and other hormonal therapies
Endocrinology Clinic : Diagnosis and treatment of pediatric endocrine diseases
Obesity clinic : diagnosis and treatment for a reason of pathologic obesity, and nutrition & execercise consutation
Pediatric Gastrointestinal Clinic : Pediatric gastric endoscopy, pediatric colonoscopy, diagnosis and treatment of digestive system disorders
Child care and nutritional counseling